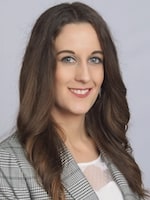 Erin Thompson
Attorney
Ms. Thompson primarily works in the Dallas office of Stacy Cole Law, P.C. As an attorney with the firm, Ms. Thompson represents employees in claims claims for unpaid overtime wages, discrimination, workplace retaliation, minimum wage violations, breach of contract, and other employment disputes that arise.
Ms. Thompson received her Juris Doctorate with Distinction from The University of Oklahoma College of Law. During her time at OU Law, Ms. Thompson served as Secretary and President for The Organization for the Advancement of Women in Law. During her tenure as President, she developed a speaker series for focused on both the legal careers of women in law and how best to assist women through the law. The organization also raised over $40,000 for the Norman Women's Resource Center, the local women's shelter. Additionally, Ms. Thompson competed on the American Association for Justice Trial Advocacy Team for two years, earning nominations for Best Attorney and even received a Distinguished Speaker Award for OU Law's Moot Court Competition.
Ms. Thompson previously worked for Judge John Roach, Jr. in the 296th District Court in Collin County. Additionally, Ms. Thompson also worked for the in-house legal department at American Fidelity Assurance Company in Oklahoma City where she assisted both the insurance litigation team as well as compliance and in-house counsel. This experience allows Ms. Thompson to understand multiple sides of each claim in order to better represent and advise clients.
Prior to Ms. Thompson's legal career, she attended The University of Texas at Austin, receiving her Bachelor's in Business Administration with a Specialty in Consulting and Risk Management from the McComb's School of Business. Ms. Thompson then began a financial career with Landmark Bank in North Texas where she worked for over three years as a personal banker and a commercial loan assistant. Ms. Thompson received the Texas Banker of the Year award during her tenure with the bank.
Education
J.D., The University of Oklahoma College of Law
Graduated With Distinction Research Editor, American Indian Law Review President, The Organization for the Advancement of Women in Law
BBA, The University of Texas at Austin
Jurisdictions Admitted to Practice Northern District of Texas